On this page, you will find the mount reference for each 3D elements.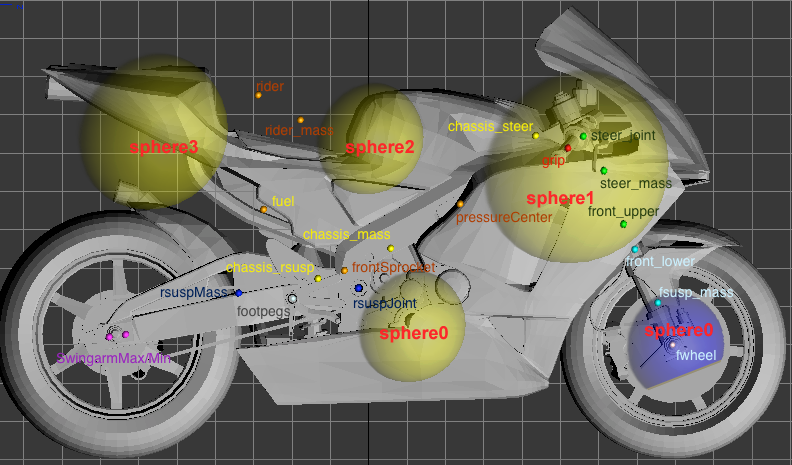 The position are all from the .geom file !!
The 3D model should have the following parts:  *Front wheel > fwheel.edf
Rear wheel > rwheel.edf
Upper fork (with grip, Tee) > steer.edf
Lower fork (with caliper, front axis) > fsusp.edf
Swingarm > rsusp.edf
Chassis chassis.edf
Front/rear wheel
The front and rear wheel should have the 0 axis in the center of the wheel axis.
Swingarm
The swingarm is mounted on the point chassis_rsusp_min position from the chassis.
Its reference (0,0,0) should be the pivot point.
The wheel is then placed on the rwheel_min position
Lower fork (with caliper)
The position of the front wheel axis is fwheel. 
X is pointed toward right of the motorcycle when on it
Y is pointed toward up
Z is pointed toward rear of the bike
Upper fork
I don't have enough info to place it correctly
It looks like the center of the Tee, is at the position front_upper
Chassis
The chassis should be positioned with the footpeg on footpeg_left (or right)
The point 
X is pointed toward right of the motorcycle when on it
Y is pointed toward up
Z is pointed toward rear of the bike